GEOMONITORING
Construction control measurement
Construction set out
Industry documentation
Tunnel surveys
Deformation control and documentation
Automatic Construction Monitoring
Deformation-Analysis with Sensor-Control-Software and Communication boxes
Deformation-Prediction
Since several years we are using successfully online monitoring in building and civil engineering for building observations, power plant construction and construction pit enclosures and to carry out a continuous and exact state observation and online monitoring in position and altitude.
The geomonitoring system also includes local and digital alerts via SMS. Remote maintenance of the locally installed monitoring system can also be carried out via the internet from the surveying office. The result provides numerical and graphical time series with trend curves and 3D shift estimates.
In combination with our drones, we offer a comprehensive overall system for real-time site monitoring and construction progress documentation. The connected 3 D evaluation programs allow an exact 3 D evaluation of cubatures and the derivation of arbitrary measurements as well as the documentation of damage and change detection in highest geodetic resolution.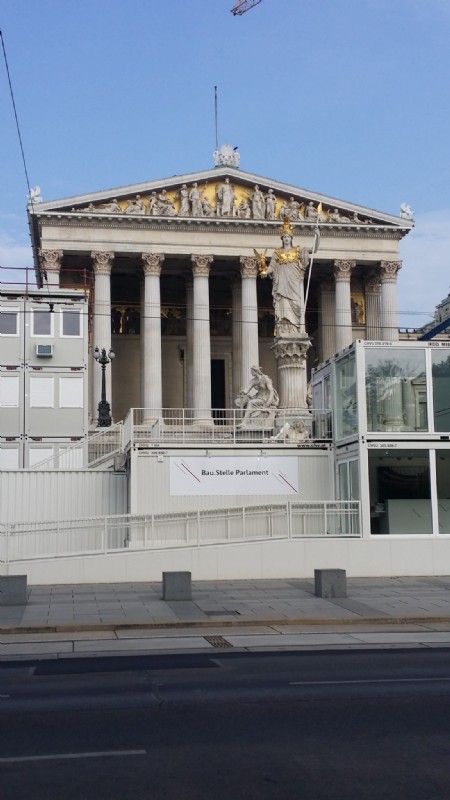 Vienna Parliament
historic renovation and monitoring
For several months during the renovation work our real-time monitoring system for the Vienna Parliament is armed. In coordination with the Cultural Heritage Office, the structural engineer, the parliamentary directorate and the construction companies, we have thoroughly equipped the whole parliament with our sensors. They can now transmit any changes in the position and height of the building to the competent authorities by means of remote transmission in the sub-millimeter range and initiate timely measures.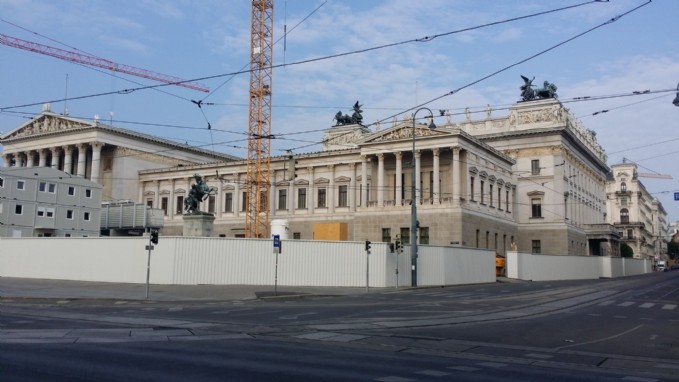 River Danube Bridge
ON-LINE DEFORMATION CONTROL MEASUREMENTS
DURING CONSTRUCTION AND FOR LONG-TIME OBSERVATION
(just ask for more detailed information - available on request)